An Ethiopian Wedding Photographer in East Africa with the Legendary Tiemert & Nebiyou
Wow, what an adventure it was being an Ethiopian wedding photographer for a week. Some memorable highlights included: a grooms entrance like no other, awesome African vibes, unlimited hospitality, bridal karaoke, a brass band, raw meat (yum), traditional coffee ceremony,  epic dance moves, one sweaty white fella, and so many other shenanigans in Addis Ababa, Ethiopia. 
My First Ethiopian Wedding
Back in March of this year I'd returned from dinner with my parents to find a missed call from an unknown number and a new voicemail. It was late but I figured I'd quickly check it. The call was from a guy called Nebiyou asking if I was interested in doing a wedding in Ethiopia (at least that is what I thought he said – remember how bad voicemail quality can be).
I checked several times and he definitely seemed to be saying 'Ethiopia'. I was ecstatic! Especially as this had come just a couple of weeks after I'd booked my first African wedding in Sierra Leone which was taking place the previous weekend. It definitely felt like someone was smiling down on me. Two months later and I was touching down in Addis Ababa for Tiemert and Nebiyou's epic Ethiopian wedding.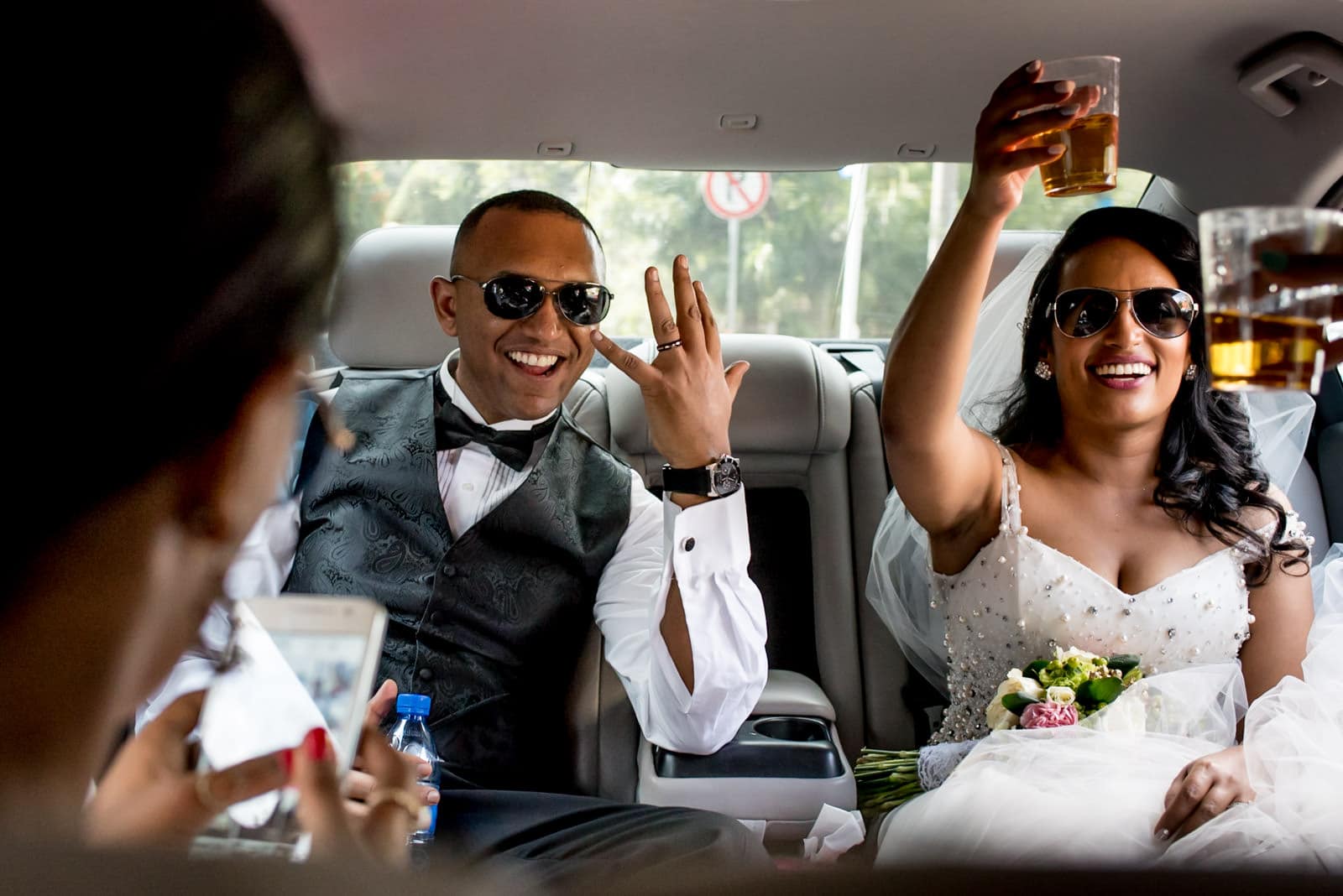 Welcomed As One Of The Gang
During my time in Ethiopia Tiemert and Nebiyou really embraced me as one of the wedding party; as did the rest of the gang. I joined them for meals, drinks, partying, an intimate traditional coffee ceremony (it was fresh roasted in the living room) and they even had me staying in the same guest house as them. This level of hospitality was something I quickly grew to appreciate about people in Ethiopia. From the family and friends to other suppliers I encountered, everyone were fantastic at supporting me and making me feel included. The best bit was how natural and effortlessly it seemed to come to them.
Kind Words From The Wedding Party
One example of this was shortly after delivering the photos Tiemert and Nebiyou sent me some incredibly kind words not just from them but also from friends and family.
"Oh my word Matt! If we had a penny for each time we said 'wow', we would've been a couple of hundreds richer! The pictures took us back and we found ourselves in tears and laughter simultaneously!"
"Oh my God…they are all super super…what a beautiful way to celebrate the New Year" [Ethiopia's New Year is different to ours]
"Owwwwww what beautiful photos! I love it!"
"AMAZING! Book him for me!"
"I love so much moment pictures…I think u should ask if he can mentor me as I want to be a photographer and capture beautiful human emotions"
"What an amazing person he is!! I love them and the random ones with you and me"
The Ethiopian Experience – Ahhh the Food
I'll be sharing more about my adventures in Addis and encounters with Ethiopian culture in a future blog post, but here I'd like to touch on one area of great importance. The food.
I've always found food to be one of the best ways to experience a culture and Ethiopia took this to a new level. It wasn't just how the food tasted (incredible by the way – raw meat at the wedding [see below] was a highlight), but how it was enjoyed. For context, incase you haven't had Ethiopian food before, everything is served on a large sour pancake (my personal interpretation) called an injera. It's almost like a mini buffet on one plate. It is then eaten with your hands (there is a special technique I quickly learned to avoid getting it all over your face).
And now here comes the interesting bit. It is not uncommon for you to feed each other, especially if you've found a winning food combination. This may sound a little strange if you're reading this from the UK, but over there you adapted to it very quickly and then started to enjoy it. It had a great social element to it. An added bonus was that I didn't need to sit down for a meal during the wedding day because the bridesmaids and grooms men kept hand feeding me :)
Back to the Celebrations
Ok. Back to the wedding. There were two main days of celebrations for Tiermert and Nebiyou's wedding. I quickly realised that with so much awesomeness going on in each one, the second day deserved their own blog post. I will also be sharing a post on our Portrait Shoot in Addis Ababa during a very wet city rush hour and some more about my adventures in Addis with a Street Photography post. For now, hold on to the edge of your seat and soak up the energy from my first day as an Ethiopian wedding photographer.
If you're planning a wedding in Ethiopia or any other destination location and like what you've seen, then I'd love to hear from you.
You Might Also Enjoy Checking Out